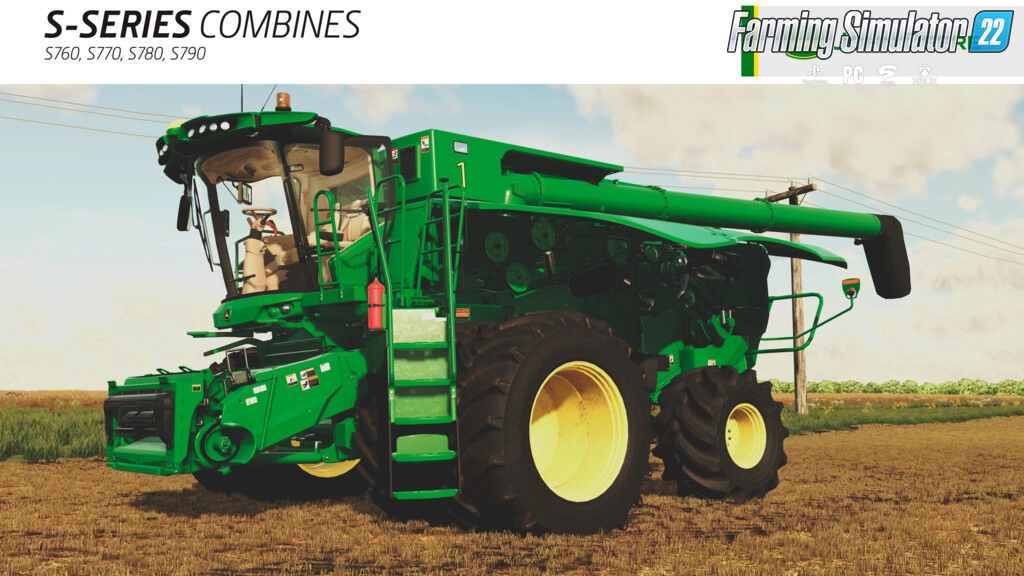 ---
---
Download mod John Deere S700 Series Combines v1.0 for FS22 | Farming Simulator 22 game. 
John Deere S700 Series - A combine derives its name from what it does: combine three separate harvesting steps — reaping, threshing and winnowing — into one. Our new S-Series combines do that and much more. They match the best harvesting capabilities with smart technology to ensure that your harvest is the best possible — year in and year out. The S-Series has had a long history of harvesting excellence, and that tradition continues with the new S700 Combines.
Features John Deere S700 Series:
- Model: S-Series Combines
- Base Price: $591,567
- Rated Power: 333 - 543HP
- Capacity: 10,600 - 24,667 liter
- Models S760, S770, S780 and S790. Special features for each
- Model year 2017-2021 and 2022
- Model country: United States, Canada, Brazil and Australia
- Tires Lizard and Michelin
- Various track configurations (Lizard)
- Extender Monitors 4600 Displays (manual foldable)
- Axle Length options
- Exhaust options
- Patriot version (plotting stickers)
- Beacon options
- Numbers options
- Window Tint
- Opening the side covers including animation for stairs (for maintenance)
- Rear attacher options
- 8 Grain Tanks options: Standard Static, Standard Static without Tarp, Standard Static with Tarp, Standard Static + Crary Big Top, Advanced Foldable, Demco CIH XL Grain Tank, Demco CIH XL + Tip Up Grain Tank and DW Grain Tank
- Spreaders options
- Oversize signs
- 7 Pipe sizes. Including extended version to work with 60-ft headers
- Extender for pipes
- Realistic prices
- Realistic animations
Tested on game version 1.8.x
This document refers to links to third-party content/website, from both our website(s) and our official Social Media pages. External links are selected and reviewed when a page/post is published. However, we are not responsible for the content of external websites. If you would like us to remove a link to your website from NHS Choices, please Contact us (Admin) Note that unless you have a legal right to demand removal, such removal will be at our discretion.