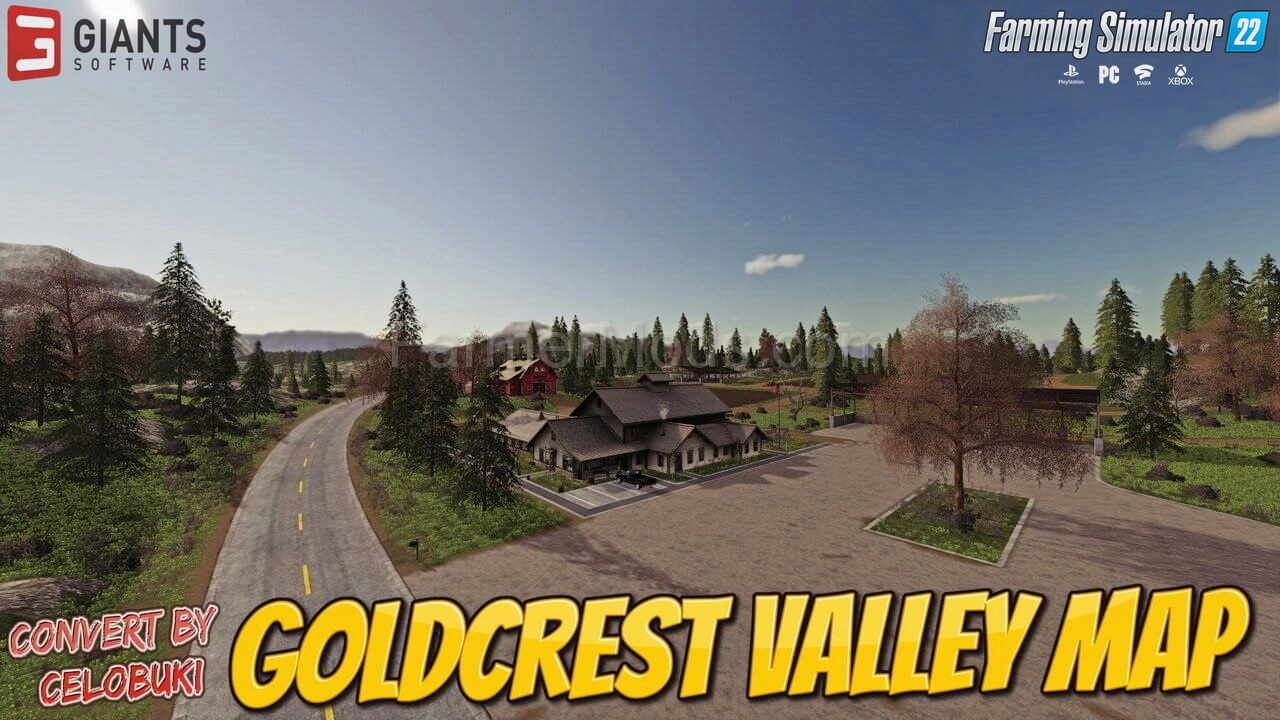 Mod Updated to v2.0.0.1
---
Credits:
Giants Software, Celobuki
---
Mod Goldcrest Valley 22 Map v2.0.0.1 for FS22 | Farming Simulator 22 game.

Goldcrest Valley Map - This is conversion of Goldcrest Valley, base map from FS17.  It is the primary map introduced in the new version of Farming Simulator, and includes many new features.

Features Goldcrest Valley Map:
- conversion from FS17 to FS19 and now to FS22
- 33 fields
- 7 sell points including train sell point
- Wood train sell point
- 5 production buildings
- Sawmill
- 6 purchasable forests
- In new player mode, you get a pre-built farm with cow barn, sheep barn, chicken barn and machines.
Changes in v2.0.0.1:
- Fixed pine and spruce trees, it was impossible to attach a winch.
- Added GÖWEIL Pack DLC Bales compatibility.
- Added specular mask to most of the buildings.
- Added two fields with grass mission.

Tested on game version 1.9.x 
Changes in v2.0:
- All new objects from Elmcreek removed and replaced with old objects from fs17 with new textures and window lighting, including barn, pigsty and sheepfold.
- Added the following productions: Confectionery, Carpentry, Dairy, Bakery, French Fry Shop, Ketchup Production, Pancake Shop, Pizzeria, Popcorn Factory, Power Plant, Waffle Shop.
- Ground textures have been repainted.
- Pines and spruces have been replaced by FS17 as they were in Goldcrest Valley from FS17.
- Added 6 small farms all over the map. All objects from these farms can be sold after the purchase of these farmlands.
- Added a second train.
- BGA no longer generates electrical charge. Instead, the methane that is produced can be transported, sold or used.
- Added second bunker bunker on BGA.
- Added natural gas power plant. It will produce electricity that is sold directly. To operate power plants, you will need methane and transformer oil, which you can buy at the store, pallet category.
- Goldcrest Pacific Grain will also take your corn and produce cornmeal that can be sold or sent to our local bakery where you can make cornbread.
- To make popcorn, you will need sea salt, which you can buy at the store.
- One of the ingredients for making pizza is oregano, which you can buy at the store.
- Added alfalfa, clover and soy straw. Thanks Lanziboy.
- Removed French translation.
- Some of the current selling points have been replaced.
- Most decorative buildings that are placed on arable land or in the forest can now be sold after buying land.
- Sawmill and joinery can now be sold.
- Farmland repainted.
- Individual license plates.
Changes in v1.0.0.2:
- All farmlands now can be bought. 
Download #1 | Download #2 | Download #3
Changes in v1.0.0.1:
- Added collectibles.
- Added pig barn.
- Sheep barn fence is now saleable.
- Removed non saleable shed at sheep barn.
- Farm barn is now saleable.
- Farm ground borders are now part the farm house, so they can be sold.
- Added missing platform at train wood loading station, removed pile of wood and parked cars.
- Added missing concrete floor at Gas Station.
- Reduced price of BGA and added bunker silo.
- Fixed terrain deform on the road at the dairy.
- Fixed and repainted ground in the barn at main farm.
- Replaced texture of concrete.
This document refers to links to third-party content/website, from both our website(s) and our official Social Media pages. External links are selected and reviewed when a page/post is published. However, we are not responsible for the content of external websites. If you would like us to remove a link to your website from NHS Choices, please Contact us (Admin) Note that unless you have a legal right to demand removal, such removal will be at our discretion.